The Cathedral Concert Series, a program of the Diocese of Knoxville Music Commission, is dedicated to providing the community with free/low-cost opportunities to experience local, regional, national, and international sacred and classical music ensembles in the effort to support the Arts and foster appreciation for Sacred Music in East Tennessee. For more information, please contact Glenn Kahler (865) 558-4113
The Diocese of Knoxville Music Commission represents all quarters of the Diocese and serves the Diocese of Knoxville's laity and clergy. It provides support services and resource management of worship music at both the parish and Diocesan levels. The Commission also acts as a liaison between the office of the Bishop and the local parish musicians.
The Commission meets regularly and manages an active roster of activities with the following mission: To promote the Gospel message of Jesus to the glory of God the Father through the mastery of musicianship in service to the Church, to protect the Church's great repository of sacred music, to preserve the musical traditions of the Church, and those grown organically from them in full accordance with the Liturgy Documents, to support the New Evangelization by fostering respect and appreciation for sacred music in East Tennessee with the mind toward the ecumenical, and to support and enrich the activities pertaining to worship, education, and service of all Diocese of Knoxville Music Ministers.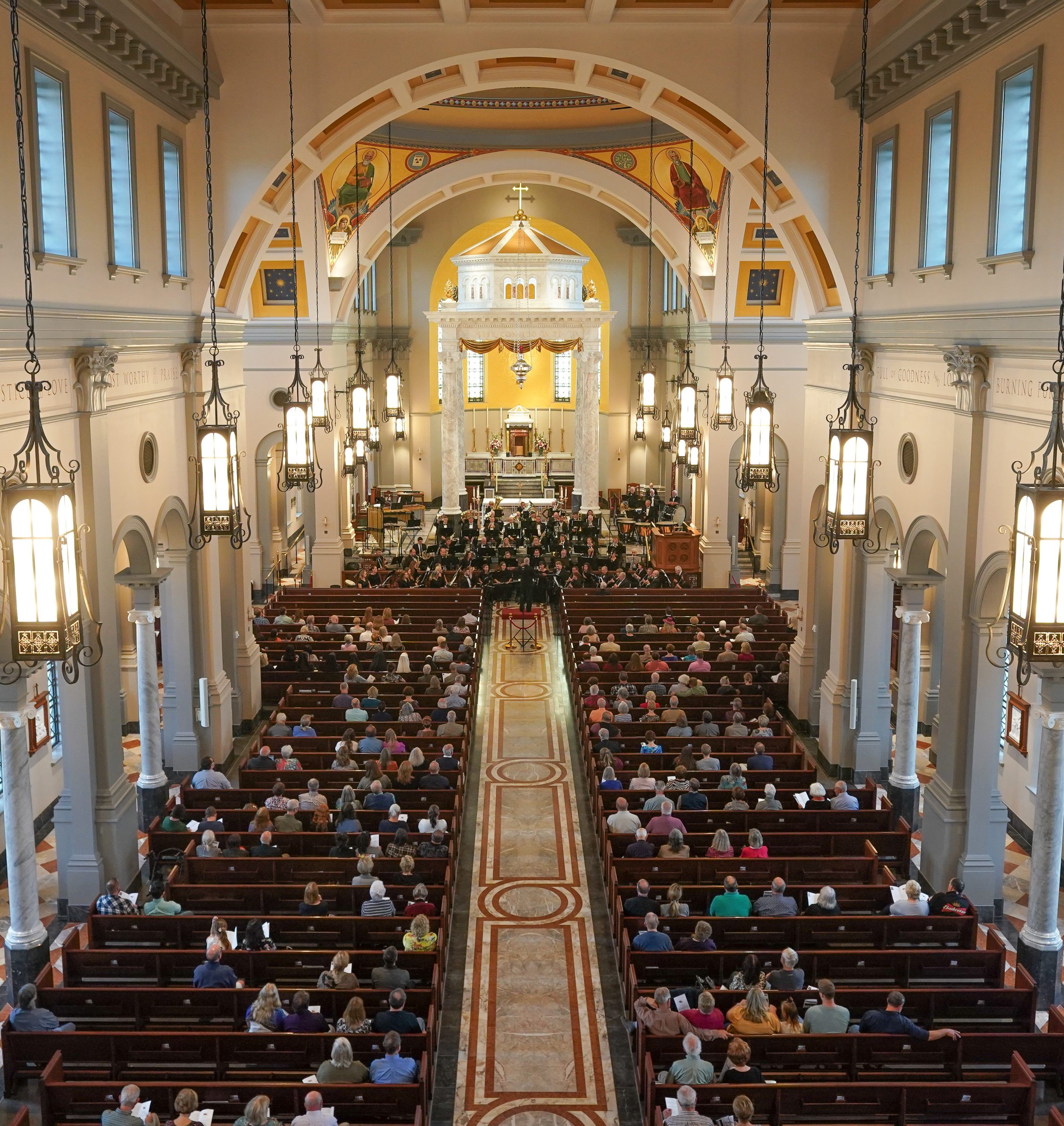 Cathedral Concert Series: Choral, Instrumental, and All-Sing Christmas Festival​
​The Cathedral of the Most Sacred Heart of Jesus is proud to present its' Second Annual Cathedral Christmas Festival, featuring the Cantors of the Cathedral, the Tennessee Wind Symphony, and musicians of the Diocese of Knoxville, with choral and all-sing Christmas carols!
O Come All Ye Faithful and Sing to the Lord!
Face-coverings are recommended inside the Cathedral.
Non-contact temperature checks may be required at the door.
Sign-in for contact tracing may be required.
Recommended physical distancing between family groups.
Seating follows CDC and TN State guidelines for worship.
Public water fountains are disabled on the premises.
Hand sanitizer stations are located throughout the Cathedral.
Thank you for your understanding.
Details: The event will be live-streamed at shcathedral.org